Welcome to Belmeis! Our new bar, situated in the heart of Muswell Hill, will bring exciting music, infused cocktails and original, creative small plates to N10.
Our approach was to open somewhere that people feel at home. A cosy, unpretentious atmosphere that allows visitors to enjoy the concept of World Music. The sounds of Jazz, Brazilian Bossa Nova or Afghani Rubab music can be heard daily, and we hope to introduce patrons to these soulful, underplayed genres.
Our food is elegant and simple. Small plates of Modern European creations, with an emphasis on what is in season, put together by our experienced chef. Perfect for groups and individuals, wanting something light or more substantial.
Finally, our signature cocktails list which is unique to Belmeis. An innovative, exciting concept designed by Jack Charlton, former Bar Manager at No.5 Hertford Street, with a focus on infused spirits and the seven deadly sins. Expect bacon infused bourbon, cereal milk and chilli infused tequila. We believe this to be one of the most original, inventive cocktail lists in North London! But don't take our word for it, come and try for yourself…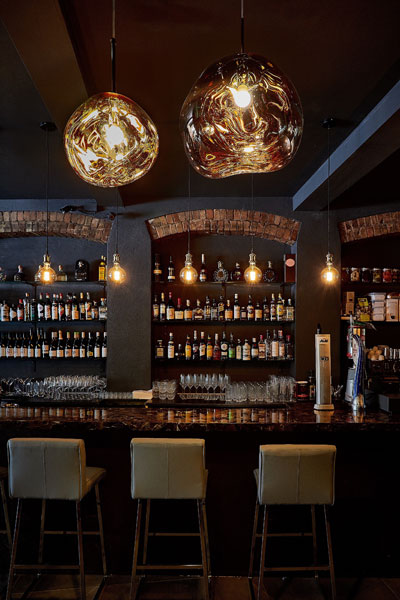 Jack Charlton
Jack Charlton has worked his way up from the colony club to be headhunted for no. 5 Hertford street and then moving on to be brand ambassador for remy Martin – he has put together our cocktail menu with the concept being the seven deadly sins; a mixture of infused liquors and fresh seasonal flavours.
Dan Greifer
Our head Barman Dan Greifer has won awards at places such Her Majesty's Secret Service in Bristol and Nowhere Special in Kentish Town and has just put together the cocktail list for the edition hotel:Dubai – they are now flying him over for 6 weeks to Dubai to train the staff over there – he is an excellent Barman with 8 years experience so do ask him to put something together that suits your taste.
Samuel McGuinness
Samuel Mcguinness has worked with some of the best chefs in the world coming up from Jamie Oliver's 15 to work at Galvin la Chapelle, Resteraunt Gordon Ramsey and the fat duck under Heston blumenthail – he cooks on the big green egg which is a piece of Chinese technology dating back 1000 years generates heat of up to 800 degrees – we cook with chickory wood and coal to produce some beautiful smoky flavours for our fresh, seasonal, locally produced dishes.
Louis Milner
Louis Milner and Mo Mungano are childhood friends who teamed up to transform this peculiar shaped space formerly a Fishmongers into a stylish cocktail bar. With Louis's background in fashion and Mo's background in property development they have combined there skills to fill the interior with vintage furniture and the likes of House of Hackney also hosting shoots for brands and artists on Mondays.